Sri Lanka female health project
Earlier this year Occupational Health Assessment Ltd supported Dr. Fatema Mustansir Dawoodbhoy by contributing to funding an elective medical placement in Sri Lanka.
Elective medical placements are periods away from medical school spent working in the real world. Most medical students participate in an elective at some point. Dr. Dawoodbhoy recently graduated from Imperial College London and is now an Academic Foundation Doctor.
Whilst planning the placement, Dr. Dawoodbhoy wanted to ensure it would be a new learning opportunity outside the hospital setting for a change. A keen interest in global health and women's health drove Dr. Dawoodbhoy to contact a charity in Sri Lanka, the Arka Initiative.
Dr. Dawoodbhoy approached the charity and was welcomed on board to help promote effective menstrual health management. She arrived in Sri Lanka in May to start work.
Many women in Sri Lanka are disadvantaged in menstrual health management due to the deep-rooted stigmas present in society. The stigma associated with menstruation can lead to poor access to sexual and menstrual health education. 
The Arka Initiative is working toward greater sexual and reproductive well-being in Sri Lanka. The organisation was started by a lawyer, with the help of doctors and now also volunteers with and without medical expertise. Dr. Dawoodbhoy was part of the first cohort of medical students the Arka initiative have taken in for medical electives.
Working towards better women's health
Arka Initiative focuses on four key areas:
Sustainable sanitation – providing reusable sanitary napkins to underserved women across several districts

Adithi Pad Project – helping to produce an affordable sanitary pad, allowing women to menstruate with dignity

Sex education in schools – providing comprehensive sex education to children

Mentoring partnerships – delivering educational sessions on sexual reproductive health awareness for corporates, factory workers and grassroots communities
Dr. Dawoodbhoy worked tirelessly with Arka for three weeks, travelling to remote villages in Sri Lanka to support their doctors who delivered period education in Sinhalese, Tamil and English. For these sessions, Arka partnered with Hemas (the largest sanitary manufacturing company in Sri Lanka) to provide these women affordable sanitary pads in order to promote healthy practices.
Compounding the challenge of delivering health support to diverse communities, Sri Lanka was also enveloped in a political and economic crisis during the placement. Fuel, power and resources suddenly became scarce.
The language barrier made some sessions difficult, however, local doctors engaged with audiences to ensure a full understanding of the sessions. The fuel crisis grew and visits to some schools, villages and a manufacturing plant had to be cancelled.
Dr. Dawoodbhoy moved on to support the Family Planning Association, which offers family planning advice to men and women across Sri Lanka. Sitting in on contraception consultations, observing IUD insertions and learning how a dedicated surgical unit operates in Columbo was a unique experience.
Healthcare in Sri Lanka is delivered in a similar way to the NHS – free at the point of use – however there are more patients and less doctors than in the UK. Dr. Dawoodbhoy noted that many instruments (like speculums, for example) are metal and sterilised for repeat use. Sterile fields and PPE are also cloth-based, washed and re-worn, reducing delivery costs.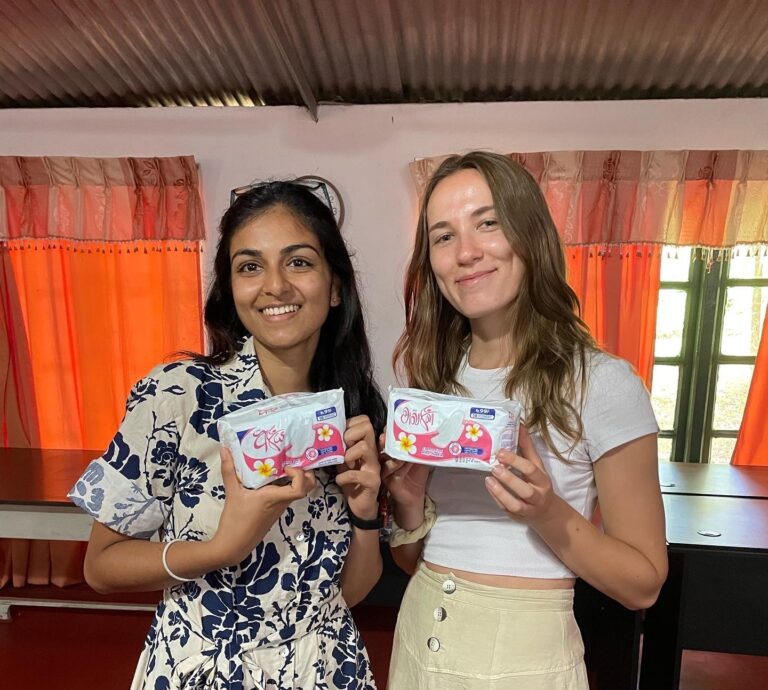 Shared experiences improve care
Dr. Dawoodbhoy learnt that the vast majority of women in Sri Lanka don't use pads or tampons, they rely on homemade cloth pads. Whilst that may be environmentally sound, re-usable pads can have significant health costs if they are used incorrectly.
If they are not cleaned properly (and many women also refuse to hang them out to dry properly because of the social stigma) a urinary tract infection is easily triggered. Work and school-life is easily disrupted too.
Much of the sex education in Sri Lanka historically focussed on abstinence, which can in turn result in an education gap, STI's, unplanned pregnancies and contraceptive stigma, all of which can contribute to a poverty cycle.
Whilst hormonal injections are widely used as a contraceptive in Sri Lanka, inter-uterine devices are used more commonly than inter-uterine systems. Oral contraceptive (COCP) is only available in two forms – a local brand 'Mithuri' and the American brand 'Yasmin' (at ten times the cost of Mithuri).
"My time with Arka was invaluable and irreplaceable" says Dr. Dawoodbhoy, "I met some incredible women, trying to change the way women's health is viewed and delivered" she continued "and I hope to be able to keep supporting such a noble cause in the future too". 
Dr. Fatema M Dawoodbhoy, August 2022
About Occupational Health Assessment Ltd – A Nationwide Occupational Health Provider
Occupational Health Assessment Ltd provides rapid access to expert occupational health support for businesses across the United Kingdom. Appointments are available within two days.
With a unique occupational health assessment service, night worker health assessments, fitness certifications and access to clinics in Belfast, Birmingham, Bradford, Brighton, Bristol, Cardiff, Coventry, Derby, Edinburgh, Glasgow, Hull, Leeds, Leicester, Liverpool, London, Manchester, Newcastle, Northampton, Nottingham, Plymouth, Portsmouth, Reading, Sheffield, Southampton, Stoke, Surrey and more, the business provides high quality, expert medical advice. 
Please contact us for further information or assistance.